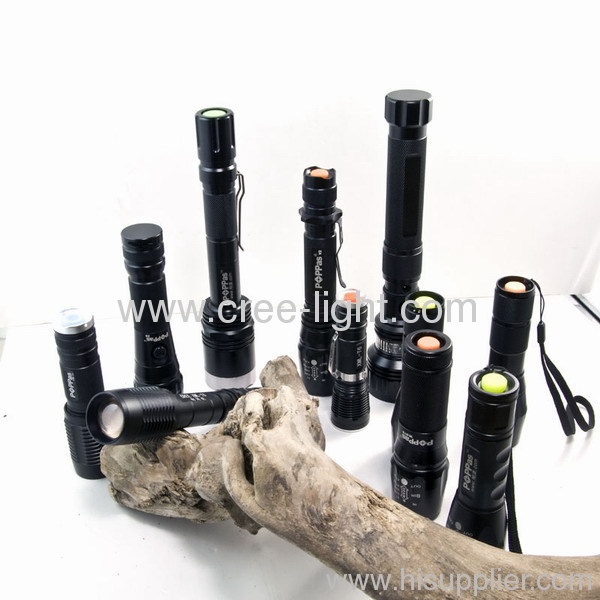 Now CREE XM-L T6 Bulb is one of the most populat used for super power flashlight ,it can be max.1000lumens when the current is 3A.

XLamp® XM-L LED
Shatters Single-Die Performance Standards
Documentation
Product Selector
Application Notes
Design Files
Sample Request
The XLamp XM-L is the industry's brightest, highest performance lighting-class LED. With breakthrough light output and efficacy, XM-L is designed for very high-lumen applications such as high-bay or roadway lighting.
XLamp XM-L LEDs offer the unique combination of very high efficacy at very high drive currents, providing a 20% efficiency gain over the XLamp XP-G LED at the same current. With this available efficacy, XM-L can lower total system cost by reducing the number of LEDs and optics in the system.
Features
Delivers 1000 lumens at 100 lumens per Watt
Low thermal resistance: 2.5°C/W
ANSI-compatible chromaticity bins
Unlimited floor life at ≤ 30ºC/85% RH
Reflow solderable - JEDEC J-STD-020C
Electrically neutral thermal path
Lighting Applications
Street and roadway
Outdoor area
High-bay and industrial
Featured Part Number
Illumination Color
Wavelength/Color Temperature
Luminous Flux
Viewing Angle
VF (Forward Voltage @ 700mA, 85C, 6V)
XMLAWT-00-0000-000LS60E8
Warm White
3700 K
188 lm
125 deg
2.9 V typ

XMLAWT-00-0000-000LT20E7
Warm White
3700 K
200 lm
125 deg
XMLAWT-00-0000-000LT20E8
Warm White
3700 K
200 lm
125 deg
XMLAWT-00-0000-000LT30E7
Warm White
3700 K
220 lm
125 deg
XMLAWT-00-0000-000LT40E3
Neutral White
5000 K
240 lm
125 deg
XMLAWT-00-0000-000LT50E3
Neutral White
5000 K
260 lm
125 deg
XMLAWT-02-0000-000LT20E7
Warm White
3700 K
200 lm
125 deg
XMLAWT-02-0000-000LT40E4
Neutral White
5000 K
240 lm
125 deg
XMLAWT-00-0000-0000T5050
Cool White
8300 K
260 lm
125 deg
XMLAWT-00-0000-0000T5053
Cool White
8300 K
260 lm
125 deg
XMLAWT-00-0000-0000T6053
Cool White
8300 K
280 lm
125 deg